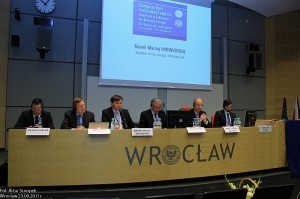 Nie tak dawno odbył się we Wrocławiu Kongres Federacji Adwokatur Europy, podczas którego poruszano tematy związane z mediami społecznościowymi. Zastanawiano się nad nową rolą prawnika w społecznościowym świecie. Podczas tego Kongresu miałem możliwość zaprezentować polski punkt widzenia na to, czy social media są dobrym narzędziem marketingowym. Są? Oczywiście. Nie miałem zbyt dużo czasu na przekazanie szczegółowych informacji, cóż można powiedzieć przez 20 minut? Z jednej strony wiele, z drugiej niesamowicie mało. Dziękuję tym wszystkim, którzy po wystąpienia kontaktowali się ze mną. Odpowiedzi na Państwa pytania będę na pewno umieszczał na tym blogu.
Otrzymałem także wiele maili z prośbą, aby pokazać tym, którym nie udało się dotrzeć do Wrocławia, moją prezentację. Było to na pewno innego niż Power Point, a czy było ciekawe? Niech wypowiedzą się ci, którzy ją widzieli "na żywo" 🙂
Jednak sam film bez tekstu nie jest kompletny. Oto oryginalna wersja części mojej prezentacji:

People get knowledge from multiple sources. The rapid development of social media causes that traditional sources of information are insuffitient.
Customers of law firms see advertisements in newspapers, radio and television, not to mention leaflets on every street corner. In this overflood of information your clients have difficulty to find information about you.
And what about trust? Do you think that your clients trust traditional marketing channels? I must upset you. They don?t belive you.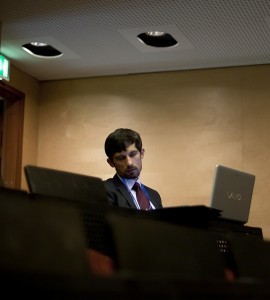 When people looking for legal help, whom they trust? 41 percent of respondents belive friends, Only 12 percent trust someone else than family, 5% trust another lawyer, only 1 percent trust press ads. Trust doesn?t exist.
Maybe you have to  write books being marketing tool?  In Polish readership surveys done 2011, only 46% of respondents said they read more than 3 pages of text at one time, including books, newspapers and text on a computer screen. What does this mean for lawyers? Well, large part of their potential customers have no contact with written texts. Those potential customers are not interested in-deep analysis of problems. They scan the text, they don?t see your
This slide shows the largest Polish circulation of daily newspapers. The biggest of them – the Fact – has nearly four hundred thousand readers. Gazeta Wyborcza has three hundred thousand readers. Large numbers? I don?t think so. Why? Because we have free big social media and free News in social media. I think, Big boys like big numbers, so…
And what about Facebook in Poland? You rember the fakt newspaper. And facebook? Well, it has more users every day. It?s the same in your countries.
According to data from August 2011, Facebook has nearly seven million users in Poland. Can lawyers avoid this client group?
This is a revolution. Young people can not imagine life without social media. In a few years they will be new clients of law firms. They will pay for your legal opinion, will seek your services, will be your customers. Lawyers can?t work like before.
How you can use these social media?
To listen
Your competitors and customers are talking about you right now or they are looking for legal help by google. So, listen.
Presence
Thanks to social media, you can build your virtual presence for your potential customers.
Don?t forget about Google
Thanks to social media you can enchance search engine ranking and you can show your law firm in the web.
Is a social media good marketing tool? As you see, It?s certainly the cheapest way to do marketing. You can interact, change it easily and change it right now.
Those lawyers who implement a social media into their marketing strategy will acheve  even bigger success. Why?
social media bring benefits you can measure.
Remember, you need digital competences in digital world. Social media is not an advertising tool, it is about communication. It is next step communication ? faster, chaper, easier.  Social media is finding right way to your audience.
So, are you ready to join? Are you ready? Maybe Do you think, that you are to old or you know nothing  about social media? Well…
You live. Live in social media.
Grzegorz Furgał
National Chamber of Legal Advisers
www.facebook.com/fgrzegorzf